Murder in the Haunted Chamber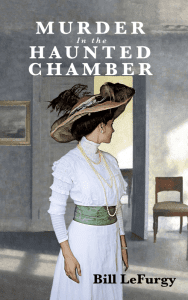 Baltimore, 1910. Dr. Sarah Kennecott does not believe in ghosts. But when her dead sister appears in a dream and correctly forecasts a murder, Sarah must find the killer. At the center of the mystery is a spiritual medium with hidden motives and a stunning secret.
Haunted memories of an army massacre overseas push Jack Hardin near emotional collapse. The medium draws him in with a promise to contact his ghosts during a séance, an event that turns deadly.
The case tests their detective partnership as Sarah and Jack move from seedy saloons, to high society parlors, to confrontations with what might—or might not—be the supernatural. Everything, including their relationship and their lives, hinges on thwarting a killer who is deceptive, clever, and brutal.
A brilliant female lead . . . this whodunnit is filled with intriguing characters and two compelling and complex stand-out leads. Highly recommended.
–Kelly Oliver, bestselling and award-winning author of the Jessica James Mysteries and the Fiona Figg Mysteries.

A fast-paced and well-researched historical mystery. Murder, ghostly shenanigans, and the budding romance kept me turning the pages.
–M. Louisa Locke, USA Today bestselling author, The Victorian San Francisco Mystery Series and Paradisi Chronicles
Chockfull of exciting detective work, fast-paced dialogue, keep-'em-guessing twists and engaging characters, delivering crime-solving at its most satisfying.
–BlueInk Review
A well-plotted mystery set against a vivid historical backdrop. Great for readers of historical mysteries who love clever female detectives… for fans of Rhys Bowen and Victoria Thompson.
–Booklife
Available July 1. Click here to view on Amazon