Fiction: Sarah Kennecott and Jack Harden Mysteries
Into the Suffering City: A Novel of Baltimore (Number 1)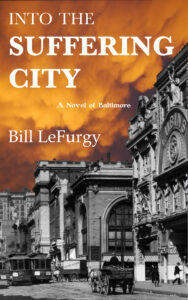 1909: New thrills are everywhere: cars, cocaine, ragtime music, moving pictures. Old troubles also thrive, including murder, corruption, and the painful divisions of gender, class, and race.
Dr. Sarah Kennecott is on the autism spectrum—a trait that is unidentified and unappreciated at the time. Her passion is justice for murder victims, and after getting fired for looking too closely into the killing of a showgirl, she refuses to back down from the investigation. Sarah forms an unlikely bond with Jack Harden, a tormented, down-on-his-luck private detective. Jack pushes the case into Baltimore's seedy underworld, a vitally corrupt realm of saloons, brothels, and burlesque theaters.
When Sarah and Jack pull the pieces together, they discover a stunning pair of secrets, each of which is worth killing to keep.
Into the Suffering City is a fast-paced, emotionally immersive story that combines originality and historical detail to explore the lives of people living in Baltimore during the early 1900s.
Murder In the Haunted Chamber (Number 2)
1910: Dr. Sarah Kennecott does not believe in ghosts. But when her dead sister appears in a dream and correctly forecasts a murder, Sarah must find the killer. At the center of the mystery is a spiritual medium with hidden motives and a stunning secret.
Haunted memories of an army massacre overseas push Jack Hardin near emotional collapse. The medium draws him in with a promise to contact his ghosts during a séance, an event that turns deadly.
The case tests their detective partnership as Sarah and Jack move from seedy saloons, to high society parlors, to confrontations with what might—or might not—be the supernatural. Everything, including their relationship and their lives, hinges on thwarting a killer who is deceptive, clever, and brutal.
Available in Paperback and Kindle on Amazon
Non-Fiction
Prostitution and IIlicit Sex in Baltimore, Commercialized Vice, Report of the Maryland Vice Commission, 1916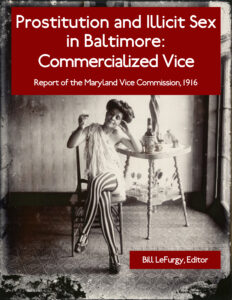 A previously unpublished report detailing prostitution in Baltimore during the second decade of the twentieth century.